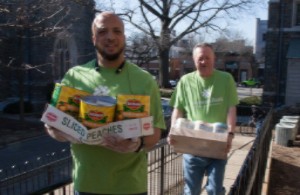 Our guests rely on the Soup Kitchen for most if not all of their basic needs. Every day, in addition to the noon-time meal, our take-home table has canned goods and personal care items for our guests. (Did you know that food stamps can't be used to buy personal care items?) By going to the store and buying these items, you can help provide the basics we all need to get through the week.
Hearty cans of soup/chili/stew, preferably flip-top (this is easiest for our guests who are homeless)
Low sugar cereal
Individual packets of nuts or trail mix
Canned chicken and tuna
Toiletries such as shampoo, razors, deodorant, soap, toothbrushes, toothpaste
Warm Hats, Gloves & Scarves
Thermal Undergarments - Size L & XL
White tube socks
L and XL T-shirts
We would love your help this holiday season!  Click on the below flyer to see how you can help!